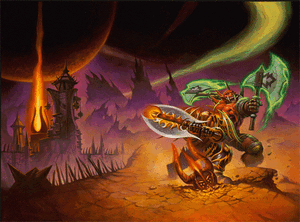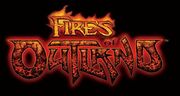 The third normal World of Warcraft TCG set is named Fires of Outland.
Rush to war as the conflict is joined in Outland! The armies of Azeroth lay siege to the mysterious world, while the Burning Legion throws its might against the Stair of Destiny. Prestige and Glory await those who are bold enough to join the fray. Let your battle cry be heard as echoes of war engulf the blood-soaked world. Will you be prepared?
Set Details
Edit
Card Totals
Edit
Total Cards: 249 (246 + 3)
246 Numbered Cards

80 Commons
78 Uncommons
73 Rares
15 Epics

3 Loot Cards
Card Numbering
Edit
The numbering is based on a priority of:
Heroes

Alliance
Horde

Abilities

Class Abilities (Alphabetically, Druid through to Warrior)
Alliance Abilities
Horde Abilities
Neutral Abilities

Allies

Alliance Allies
Horde Allies
Neutral Allies

Equipment

Armor
Items
Weapons

Quests

Alliance Quests
Horde Quests
Neutral Quests
Each section is then ordered alphabetically. Note: Warlock and Hunter pets are numbered within their Class Abilities.
Card List
Edit
Alliance
Edit
Abilities
Edit
Special Allies
Edit
Equipment
Edit
Loot Cards
Edit
External links
Edit

WoW.TCGBrowser.com
Fires of Outland set
Old

Entertainment.UpperDeck.com
World of Warcraft TCG Products — Fires of Outland
Community content is available under
CC-BY-SA
unless otherwise noted.