Swift Zhevra

Item Level

40

Mount

"Mount" is not in the list of possible values (Cloth armor, Leather armor, Mail armor, Plate armor, Axe, Dagger, Fishing pole, Fist weapon, Mace, Miscellaneous, Polearm, Staff, Sword, Bag, Enchanting bag, Engineering bag, Gem bag, Herb bag, Leatherworking bag, Mining bag, Soul bag, Arrow, Bow, Bullet, Crossbow, Gun, Idol, Libram (relic), Shield, Sigil, Thrown, Totem (relic), Wand) for this property.

Requires level 20
Requires Riding (150)
Use: Teaches you how to summon this mount. This is a very fast mount.
Swift Zhevra is a special mount that players can earn only through the Recruit-A-Friend program once the recruited friend has bought World of Warcraft and 60 days of playtime. This mount reward was removed from the RAF program on April 27, 2010, but as of November 12th, 2013 it has been made available again, along with all the other old recruit-a-friend mounts and pets.  As always, you can only claim one reward per eligible RAF invite.
The mount is mailed in-game by Master Handler Sylvester. With the item is a rather unique letter:
A Swift Zhevra
TO: <name>
FROM: Nesingwary Exotic Mount Supply Co. LLC
CONTENTS OF CRATE:
- One (1) Zhevra
- One (1) Zhevra Saddle
- Four (4) Zhevra Hooves
- Two (2) Spare Zhevra Hooves
- DO NOT OBSTRUCT AIR HOLES -
Patch changes
Edit
Patch 2.4.3

(2008-07-15): Added.

 Hotfix (2010-04-27): "

Time is running out for those who wish to claim their Zhevra, as the launch of the X-53 Touring Rocket is now scheduled for tomorrow, Tuesday, April 27! If you've fulfilled all of the Recruit-A-Friend requirements necessary to claim a mount now but choose not to claim the Zhevra, you will be able to claim the X-53 Touring Rocket instead once it launches. Sounds like they're firing it up for a final test run now...

"


Patch 5.4.0

(10-Sep-2013): Once again available through Recruit-A-Friend

External links
Edit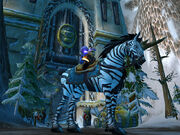 Community content is available under
CC-BY-SA
unless otherwise noted.