The subject of this article has been removed from World of Warcraft.

This includes items and quests that can no longer be obtained.
The in-game information in this article is kept purely for historical purposes and should probably not be under any other categories.

Swift Flying Broom

Mount

"Mount" is not in the list of possible values (Back, Chest, Feet, Finger, Hands, Head, Held in off-hand, Legs, Main Hand, Neck, Off Hand, One-Hand, Projectile, Ranged, Relic, Shirt, Shoulder, Tabard, Thrown, Trinket, Two-Hand, Waist, Wrist, Two-Handed) for this property.

Requires level 70
Requires Riding (300)
Use: A swift flying broom! This is a very fast mount. This mount can only be summoned in Outland and Northrend.
This item was a rare drop from the Headless Horseman. The Horseman is found in the graveyard wing of Scarlet Monastery during the Hallow's End seasonal event.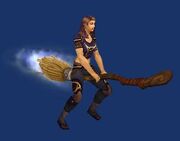 As of 2008, this item no longer drops during the Hallow's End fight of the Headless Horseman in the Graveyard wing of Scarlet Monastery. Now only the

[

Magic Broom

]

drops. It was changed so that it will work at different speeds on land and air depending on the player's Riding skill and location.
It was BoU, and had a 14 day duration from when first used. Players who never used this item may still have it and can still use it.
This item was dropped by the Headless Horseman at the Pumpkin Shrine located in the middle of the Forlorn Cloister in the graveyard wing of the Scarlet Monastery.
The item description previously indicated that it was one-use, but this was not correct and eventually removed.
External links
Edit
Community content is available under
CC-BY-SA
unless otherwise noted.