Swift Alliance Steed

Item Level

40

Mount

"Mount" is not in the list of possible values (Back, Chest, Feet, Finger, Hands, Head, Held in off-hand, Legs, Main Hand, Neck, Off Hand, One-Hand, Projectile, Ranged, Relic, Shirt, Shoulder, Tabard, Thrown, Trinket, Two-Hand, Waist, Wrist, Two-Handed) for this property.

Races: Human, Dwarf, Night Elf, Gnome, Draenei
Requires level 40
Requires Riding (150)
Use: Teaches you how to summon this mount. This is a very fast mount.
For the Horde equivalent, see Swift Horde Wolf.
For the Alliance 25 man raid equivalent, see Crusader's White Warhorse.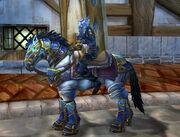 The Swift Alliance Steed is a 100% drop from the Argent Crusade Tribute Chest, found after an Alliance raid completes the 10 man Trial of the Grand Crusader.
Patch changes
External links
Community content is available under
CC-BY-SA
unless otherwise noted.