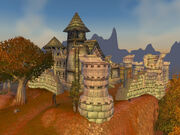 Stonewatch is the common name of the battlestation in central Redridge Mountains. It includes both the easily defensible Stonewatch Keep and the armored Stonewatch Tower, with the Stonewatch Falls cascading down a cliff face below it. The entirety of Stonewatch has fallen into the hands of the Blackrock clan under the leadership of their warchief Gath'Ilzogg, and his chief lieutenant, Tharil'zun.
As of patch 2.3, all of the mobs here have had their elite tag removed.
Community content is available under
CC-BY-SA
unless otherwise noted.