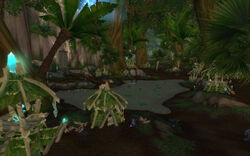 Sparktouched Haven is an outpost of the Oracles, located just west of The Mosslight Pillar in south-west Sholazar Basin. They are at constant war with the wolvar of the Frenzyheart Tribe at Kartak's Hold.
Sparktouched Haven is the objective location of the Oracles daily quests

 [77] Mastery of the Crystals and

 [77] Will of the Titans.