Were you looking for the specific mob named a Southsea Freebooter?
The Southsea Freebooters, a small fleet of goblin pirates, have no landward home — at least none that authorities have found — but are a common sight along the coast of the Barrens and in the free port of Ratchet. These scoundrels are just one of a number of pirates who roam the trade routes from Darkshore to Theramore in search of fortune and plunder.[1] (WRPG 192) It is unclear if they have a connection to the Southsea Pirates or Northsea Freebooters.
Southsea Freebooter Assets
Edit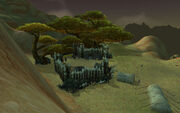 Associates
Edit
Reputation
Edit
Killing Baron Longshore gives 25 reputation with Ratchet.
Gained Rep from normal Southsea Freebooter NPCs
Cataclysm
Edit
The Southsea Freebooters, at large with Theramore, have now had to relocate to Fray Island following recent Alliance attacks on their former area.
Community content is available under
CC-BY-SA
unless otherwise noted.