This article concerns content exclusive to Cataclysm.

This article should only contain officially released content, such as beta and press release content.
This information is subject to change at any time. (Note this tag should only be placed on major Cataclysm articles, until release.)
See WW:DNP for the official policy on posting unreleased content.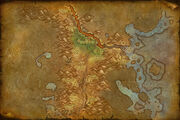 Southern Barrens is a generic term for all the lands south of Camp Taurajo. This area is considerably more hostile than the lands to the north; the beasts are considerably stronger than those in the lands to the north — with the primary threats being the silithid native to the Field of Giants and the quilboar pushing out from both Razorfen Downs and Razorfen Kraul. As a consequence, the majority of the mobs in this region are at level 20 or above, and the quests are directed towards players of a similar level.
The Horde has much less of a presence here, though it does boast a small number of individual NPCs in the area, as well as a small camp located at the Great Lift.
Cataclysm
This area will be its own zone, will be retuned for level 30-35 players and will be hotly contested between two factions that are struggling for control of the zone. Some parts of it will also become lush. [1]Changes to the original Barrens areas are listed below.
Areas affected[2]:
Adjacent regions
Gallery
Videos
References
^ Pg 46, WoW Magazine Issue 2