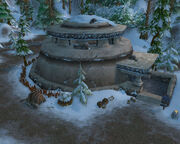 South Gate Outpost is the southeasternmost settlement of dwarven build in Dun Morogh. It lies in the middle of South Gate Pass, which links Dun Morogh in the west with Loch Modan in the east.
The mountaineers stationed at the outpost have cleared out most of the encroaching wildlife, and thus do not face the same amount of problems as do the dwarves of North Gate Outpost. Many travelers pass through the outpost on their way to or from Thelsamar.
Community content is available under
CC-BY-SA
unless otherwise noted.