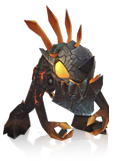 Deathy is a companion that will be given out to attendees of BlizzCon 2010, purchasers of the DirecTV pay-per-view of the event, and purchasers of the internet streamed video of the event. Deathy is a murloc companion decked out as Deathwing, doing his best to strike fear into the hearts of Azeroth's crustacean population.[1]
Deathy will likely be delivered by in-game mail to every character on a player's Battle.net account that has been attached to a Deathy code, much like collector's edition companions.
References
Edit
External links
Edit
Community content is available under
CC-BY-SA
unless otherwise noted.