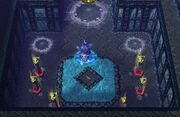 When Tyrande Whisperwind was in the Barrow Deeps to free Illidan she saw an opening behind some trees. She went in and walked around a gate to get to a warpgate. She went through the warpgate to find the in-game secret of the Shrine of the Uberfish. Inside was a [Mantle of Intelligence] that gave +3 to intelligence when worn.
Community content is available under
CC-BY-SA
unless otherwise noted.