Shard of Azzinoth

Item Level

151

Speed 1.90
161 - 242 Damage
(106.1 damage per second)
Durability 75 / 75
Requires level 70
Equip: Increases attack power by 64.
Chance on hit: Calls forth an Ember of Azzinoth to protect you in battle for a short period of time.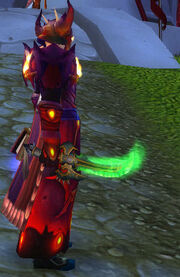 Shard of Azzinoth is an epic dagger that drops from Illidan Stormrage in the Black Temple.
Patch changes

Patch 2.4.2 (2008-05-13): no longer shares any cooldown with Shaman elemental totems.

Notes
It is strange for this item being labeled epic, as it is an artifact of Azzinoth, and originated from the same source as the Warglaives.
External links
Community content is available under
CC-BY-SA
unless otherwise noted.