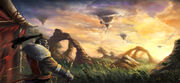 Outland is a European PvP server
This new server was the migration realm from Bladefist EU. In a mass exodus, mostly all Alliance and Horde guilds moved to Outland which is located in the new data center in Europe. Originally, Bladefist EU was supposed to merge with Daggerspine EU on Outland, but due to Blizzard's fear of overpopulating the new server too fast, Daggerspine EU migrated to Kazzak EU.
The server's name comes from the given name to the remnants of the red world of Draenor, the former homeworld of the Orcs and Draenei.
Outland Community Info
Edit
Outland Realm Forum : http://forums.wow-europe.com/board.html?forumId=1130&sid=1
Outland Guild Raid Progression : Forum post
Outland on IRC : #Outland @ Quakenet
Ulduar Crafters List Ulduar Crafting List
Alliance guilds Edit
Horde guilds Edit
Community content is available under
CC-BY-SA
unless otherwise noted.