Lore: Malfurion Stormrage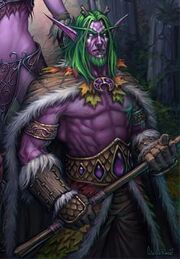 Malfurion Stormrage is the greatest archdruid of all time, and one of the most powerful mortals in the Warcraft universe. He is the twin brother of Illidan Stormrage, and the beloved of Tyrande Whisperwind. Malfurion started the practice of druidism among the night elves under the tutelage of the demigod Cenarius. Following the conclusion of the War of the Ancients, he became the Archdruid of the night elves. Often he is called shan'do, meaning "honored teacher". However, some close friends occasionally tend to call him "Furion" or "Mal".
The Server: Malfurion
When did Malfurion open?

Malfurion became the 47th player-versus-environment (PvE) realm, in the U.S., on November 8, 2005. A Oceanic preferred PvE realm, Khaz'goroth along with three PvP realms: Agamaggan, Azshara, Frostmourne (Oceanic) and a RP-PvP realm Lightninghoof debuted the same evening. Together, they are the 112th, 113th, 114th, 115th and 116th realms to open for players in North America and Oceania. Draka replaced Malfurion as the newest PvE server on November 30, 2005.

What time zone is Malfurion?

North American Central Time (CST).

Realm Latency

None.
Guilds of the Alliance and Horde
Alliance »




Aftermath
Web
Armory
Anathema
Web
Armory
Apotheosys
Web
Armory
Ascensio
Web
Armory
Athanasius
Web
Armory
Carpe Imperium
Web
Armory
Chaos to Ruin
Web
Armory
Dauntless
Web
Armory
Don't Be That Guy
Web
Armory
Eminence
Web
Armory
Entity
Web
Armory
Focus
Web
Armory
Four Lights
Web
Armory
Hard
Web
Armory
In Exile
Web
Armory
Invictus
Web
Armory
Lords of War
—
Armory
Singularity
Web
Armory
Something Wicked
Web
Armory
Spanish Inquisition
Web
Armory
Synchronicity
—
Armory
Temporary Housing
Web
Armory
Til Dawn
Web
Armory
Undone
—
Armory
Unrest
Web
Armory
Horde »




Aether
Web
Armory
Amon Amarth
Web
Armory
Blackmarket Clash
Web
Armory
Blood Sweat Tiers
Web
Armory
Crimson Tempest
Web
Armory
Demanufacture
Web
Armory
Devierum
Web
Armory
Did It For Whitney
Web
Armory
Draagun
Web
Armory
Dread Knights
Web
Armory
Echelon
Web
Armory
Epilogue
Web
Armory
Fire Within
Web
Armory
Immune
Web
Armory
Legendary
Web
Armory
Ride the Lightning
Web
Armory
The Horde Honor Guard
Web
Armory
The Pirate Guild
Web
Armory
The Seventh Circle
Web
Armory
Wolfpack
Web
Armory
Zephon
Web
Armory
Guild Progression
Icecrown Citadel
Community content is available under
CC-BY-SA
unless otherwise noted.