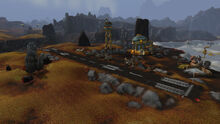 Fizzcrank is a PvE/Central timezone realm that opened for transfers on November 10th, 2008, just prior to the launch of Wrath of the Lich King, on the battlegroup, Retaliation (now Vindication). This new realm began to provide a home to players from a long list of overpopulated servers, with problematic queue times. On November 13th, 2013, Blizzard connected Fizzcrank and Aggramar, since Fizzcrank's population was diminishing. With these two realms connected, Fizzcrank grew to a High populated realm (during peak hours).
Fizzcrank's community considers the server a casual realm, with an on growing population, that's increased and decreased at different intervals in its life. Sadly the community is mostly made up of selfish narcissistic trolls, and because of this we've given Fizzcrank the nickname, Failcrank, but besides the amount of trolls, there is a lack of motivation throughout the realm's history. This means that Fizzcrank has always been low on realm ranking and has lacked raiding competition since the start. With the competition we've had, different guilds have obtained realm first achievements, kills and raid clears, which placed them as number one during past tiers.
As a side note, the Gates of Ahn'Qiraj are open and many of the realm first titles/guild achievements have been taken.
Community content is available under
CC-BY-SA
unless otherwise noted.