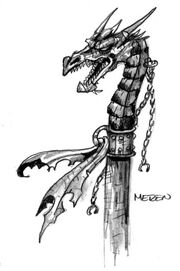 This article is a realm page for the Dragonmaw US realm (server)

This is a community maintained page and does not represent official World of Warcraft history or occurrences. Information and events here are for community documentation of server particulars, history, or opinion.
Dragonmaw is a Pacific Timezone PvP server for Blizzard's MMORPG, World of Warcraft. This server was one of the original servers online when World of Warcraft initially launched.
The server's name comes from the Dragonmaw Clan, a legion of Orcs who primarily stayed in the Outlands, and can be found in Shadowmoon Valley and Wetlands.
This server has also been known to its players, over the years and at the beginning of Mists of Pandaria the server started dying down. There is no more queue times and is now sitting at a stable medium population.
Notable Guilds
Edit
---

Horde

________________________________________________

Night Raid
Horde Brewing Company
Axiom Logic
Paradise Lost
Mutiny
Community content is available under
CC-BY-SA
unless otherwise noted.