This article is a realm page for the Aggramar Europe realm (server)

This is a community maintained page and does not represent official World of Warcraft history or occurrences. Information and events here are for community documentation of server particulars, history, or opinion.

 Aggramar EU (PvE)
Aggramar is one of the original launch servers. It was known as "Laggramar" for quite some time, until a hardware upgrade in late 2006 fixed the lagspikes. Only one free character transfer has been open (to Champer of Aspects), which means that unlike many of the other "old" realms, Aggramar never experienced an exodus.
Aggramar is known to have a friendly atmosphere, and even on the offical forums Alliance and Horde get along quite well. The population mostly consists of Scandinavians, Dutch, Balkan and English people, with some others scattered within.

According to the Official Server Status page, the realm is not full. We do sometimes experience lag in battlegrounds though.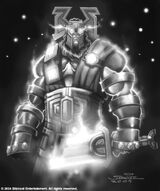 The namesake for our realm is the male Vanir Titan Aggramar, who became the champion of the Pantheon after the corruption of Sargeras.
Crafter's lists
Edit
| | |
| --- | --- |
| | Please help maintain these lists to keep them as accurate as possible. Add missing data, and remove characters who have either quit or transferred. |
Main article: Server:Aggramar Europe/Crafters
See also: Disbanded guilds
PvE raiding progress Edit
Current Progress List is taken from the Forum.
And is updated once a week by Me, or you can Register an Account and update your guilds Progress youself.
Instructions on how to are below. Otherwise you should be able to see how it is done by the style.
Please include the noted initials of each boss your guild has defeated, separated by commas. A "+" signifies the boss' heroic version being defeated.
Icecrown Citadel (10)
Edit
| Guild | Lower Spire | Plagueworks | Crimson Hall | Frostwing Halls | Frozen Throne |
| --- | --- | --- | --- | --- | --- |
| Deeprun Pest Control | M+, D+, G+, S+ | F+, R+, P+ | B+, L+ | V+, S+ | T |
| Nerf | M+, D+, G+, S+ | F+, R+, P+ | B+, L+ | V+, S+ | T |
| Vis Honor | M+, D+, G+, S+ | F+, R+, P+ | B+, L+ | V+, S | T |
| Merged | M+, D+, G+, S+ | F+, R+, P+ | B+, L+ | V+, S | T |
| An Fianna | M+, D+, G+, S+ | F+, R+, P | B+, L+ | V, S | T |
| Soldiers of Azeroth | M+, D+, G+, S+ | F+, R+, P | B+, L+ | V, S | T |
| The Phoenix Reborn | M+, D+, G+, S | F+, R+, P | B+, L+ | V, S | T |
| Aggramar Elites | M+, D+, G+, S+ | F+, R+, P | B, L | V, S | T |
| Voice of the Many | M+, D+, G+, S+ | F+, R+, P | B, L | V, S | T |
| Devils Advocates | M+, D+, G+, S+ | F+, R+, P | B, L | V, S | T |
| Team Ragnarok | M+, D+, G+, S+ | F+, R+, P | B, L | V, S | T |
| Final Equilibrium | M+, D+, G+, S | F+, R+, P | B, L+ | V, S | T |
| Max Focus | M+, D+, G+, S | F+, R+, P | B, L | V, S | T |
| An Fianna | M, D, G, S | F, R, P | B, L | V, S | T |
| Soldiers of Azeroth | M, D, G, S | F, R, P | B, L | V, S | T |
| Extinction | M, D, G, S | F, R, P | B, L | V, S | T |
| Seal of Fate | M, D, G, S | F, R, P | B, L | V, S | T |
| Novus Inceptum | M, D, G, S | F, R, P | B, L | V, S | |
| Determination | M, D, G, S | F, R, P | B, L | V, S | |
| Cult of the Old Ones | M, D, G, S | F, R, P | B, L | V, S | |
| ASGA | M, D, G, S | F, R, P | B, L | V, S | |
| Enlightened Crusaders | M, D, G, S | F, R, P | B, L | V, S | |
| Pandaren Brewed | M, D, G, S | F, R, P | B, L | V, S | |
| The Inevtiable | M, D, G, S | F, R, P | B, L | V | |
| RIP | M, D, G, S | F, R, P | B, L | V | |
| Is Yelling MOO | M, D, G, S | F, R, P | | | |
| Last Crusaders | M, D, G, S | F, R | | | |
| Strawberry Tigers | M, D, G, S | | | | |
| The Dominion | M+, D+, G+, S+ | F+, R+, P+ | B+, L+ | V+, S+ | T |
| Phoenix | M+, D+, G+, S+ | F+, R+, P+ | B+, L+ | V+, S+ | T |
| E X O D U S | M+, D+, G+, S+ | F+, R+, P+ | B+, L+ | V+, S+ | T |
| Bad Choices | M+, D+, G+, S+ | F+, R+, P | B+, L+ | V, S | T |
| Blackmoonz | M, D, G, S | F, R, P | B, L | V, S | |
| Arachnid | M, D, G, S | F, R, P | B, L | V, S | |
| Vestlands Banden | M, D, G, S | F, R, P | B, L | V, S | |
| Shmong | M, D, G, S | F, R, P | B, L | V, S | |
| Unleashed Chaos | M, D, G, S | F, R, P | B, L | V | |
| Rising | M, D, G, S | F, R, P | B, L | V | |
| Total Nutters | M, D, G, S | F, R, P | B, L | V | |
| Warseeker Tribe | M, D, G, S | F, R, P | B, L | V | |
| Malevolence | M, D, G, S | F, R | | V | |
| Overdrive | M, D, G, S | F, R | | | |
| Systembolaget | M, D, G, S | F | | | |
| WAA AAGH | M, D, G, S | | | | |
Icecrown Citadel (25)
Edit
| Guild | Lower Spire | Plagueworks | Crimson Hall | Frostwing Halls | Frozen Throne |
| --- | --- | --- | --- | --- | --- |
| Deeprun Pest Control | M+, D+, G+, S+ | F+, R+, P | B+, L+ | V+, S+ | T |
| Merged | M+, D, G+, S | F+, R+, P | B+, L+ | V, S | T |
| Nerf | M+, D, G+, S+ | F+, R+, P | B, L | V, S | T |
| Vis Honor | M+, D, G+, S | F, R+, P | B+, L | V, S | T |
| Voice of the Many | M, D, G, S | F, R, P | B, L | V, S | T |
| The Phoenix Reborn | M, D, G, S | F, R, P | B, L | V, S | |
| An Fianna | M, D, G, S | F, R, P | B, L | V, S | |
| Final Equilibrium | M, D, G, S | F, R, P | B, L | V, S | |
| Team Ragnarok | M, D, G, S | F, R, P | B, L | V, S | |
| Extinction | M, D, G, S | F, R, P | B, L | V, S | |
| Devils Advocates | M, D, G, S | F, R, P | B, L | V, S | |
| Novus Inceptum | M, D, G, S | F, R, P | B, L | V | |
| Max Focus | M, D, G, S | F, R, P | B, L | V | |
| The Emerald Knights | M, D, G, S | F, R, P | B | V | |
| ASGA | M, D, G, S | F, R, P | B | V | |
| Seal of Fate | M, D, G, S | F, R, P | B | V | |
| Enlightened Crusaders | M, D, G, S | F, R | B | V | |
| Determination | M, D, G, S | F, R | B | V | |
| The Inevitable | M, D, G, S | F | | | |
| Pandaren Brewed | M, D, G, S | | | | |
| Is Yelling MOO | M, D, G | | | | |
| Last Crusaders | M, D | | | | |
| E X O D U S | M+, D+, G+, S+ | F+, R+, P+ | B+, L+ | V+, S+ | T |
| The Dominion | M+, D, G+, S | F+, R+, P | B+, L+ | V+, S | T |
| The Obsidian Order | M, D, G, S | F, R, P | B, L | V, S | T |
| Bad Choices | M, D, G, S | F, R, P | B, L | V | |
| Warseeker Tribe | M, D, G, S | F, R, P | B, L | V | |
| Phoenix | M, D, G, S | F, R, P | B | V | |
| Arachnid | M, D, G, S | F, R | B | V | |
| Rising | M, D, G, S | F, R | B | | |
| Overdrive | M, D, G, S | | | | |
Hall of Fame of Aggramar
Edit
Arena - Hall of Fame
Edit
Select the season you wish to view: