Seethe
Item Level 232
Speed 2.20
108 - 346 Damage
(103.3 damage per second)
+39 Stamina
+52 Intellect
Durability 105 / 105
Requires level 80
Equip: Improves hit rating by 39.
Equip: Improves haste rating by 52.
Equip: Increases spell power by 550.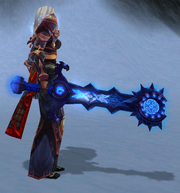 This item drops from Devourer of Souls in the Heroic version of Forge of Souls.
The name of this weapon and who it drops from is likely a reference to the Reliquary of Souls.
Patches and hotfixesEdit
External links Edit