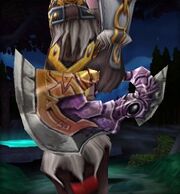 The Scythe of the Unseen Path is a hunter one-handed axe given by the Cenarion Circle for turning in items dropped by creatures in the Ruins of Ahn'Qiraj. It gives bonuses to agility, stamina, and mana regeneration. It is part of the Trappings of the Unseen Path item set.
This item is a quest reward from

 [80R] Scythe of the Unseen Path.
You must also have Exalted reputation with the Cenarion Circle.
Patches and hotfixesEdit

Patch 1.9.0 (03-Jan-2006): Added

External linksEdit