m

m (Removed vendor price)

Line 23:
Line 23:
 

|-

 

|-

 

| colspan=2 | Set: [[Trappings of the Unseen Path]] (1/3)

 

| colspan=2 | Set: [[Trappings of the Unseen Path]] (1/3)

−

|-

 
−

| colspan=2 | Sells for {{gsc|11|9|38}} to vendors

 
 

|-

 

|-

 

| colspan=2 | Item Level 70

 

| colspan=2 | Item Level 70
---
Revision as of 19:16, 22 June 2006
Template:Epic
Binds when picked up
One-Hand
Axe
86 - 161 Damage
Speed 2.40
(51.5 damage per second)
+16 Agility
+9 Stamina
Classes: Hunter
Durability 105 / 105
Requires Level 60
Equip: Restores 3 mana per 5 sec.
Set: Trappings of the Unseen Path (1/3)
Item Level 70
The Scythe of the Unseen Path is a hunter one-handed axe given by the Cenarion Circle for turning in items dropped by creatures in the Ruins of Ahn'Qiraj. It gives bonuses to agility, stamina, and mana regeneration. It is part of the Trappings of the Unseen Path item set.
Source
The Scythe of the Unseen Path is a quest reward from the quest Scythe of the Unseen Path given in the Cenarion Hold. To complete the quest, you must turn the following items to Warden Haro:
You must also have Exalted reputation with the Cenarion Circle.
Notes
External Links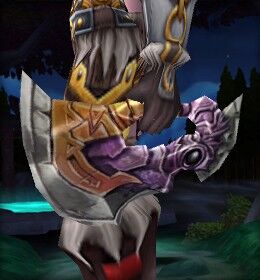 Community content is available under
CC-BY-SA
unless otherwise noted.