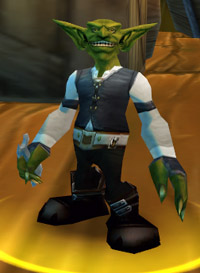 Scooty is a level 30 quest giver located in Booty Bay in the contested territory of Stranglethorn Vale. He maintains the teleporter, and claims to be a "master engineer".
Clearly an homage to Lt. Cmdr. Montgomery "Scotty" Scott, the chief engineer of the U.S.S. Enterprise from the Star Trek universe. Note the additional existence of Sprok - <Away Team> in Gnomeregan.
He starts the quest

[35] Gnomer-gooooone! (Dungeon).

See List of Stranglethorn Vale NPCs.