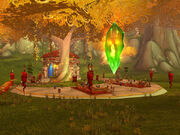 Saltheril's Haven
[38, 73]
is a small enclave hosted by
Lord Saltheril
, a man who likes to throw elaborate parties in spite of the imminent threat of the
Scourge
. Saltheril is always happy to give invitations to his party table for those who can help him get supplies for his parties. (5-10 Quest NPC area.)
Among his party guests are several notables. Magistrix Eredania, who is happy to instruct newcomers to the mystical world of enchanting, and Botanist Tyniarrel, who likes to show off his knowledge of native flora. Also present are Sempstress Ambershine, artful with needle and thread, and Arcanist Sheynathren, handy with bubbling liquids.
Players can enjoy the party more by fulfilling The Party Never Ends and so obtain the Saltheril's Haven Party Invitation.
Community content is available under
CC-BY-SA
unless otherwise noted.