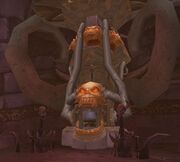 A runeforge is a special type of forge used by death knights to emblazon their weapon with runes. A runeforge is required to modify any runes already in your weapon (done via runeforging). Runeforges are initially found in Acherus: The Ebon Hold, set around the upper chamber (accessable by teleporter). There are additional runeforges at the Shadow Vault and the fortress at Mord'Rethar: The Death Gate in Icecrown, but the buildings are inhabited by many hostile mobs. The Shadow Vault can later be captured in a small quest chain, transforming it into a quest hub for the Knights of the Ebon Blade and allowing ease of access to the Vault's runeforges. There is also a runeforge inside Icecrown Citadel, near where Darion Mograine stands in Light's Hammer. This runeforge is also used by warriors and paladins as well as death knights on the quest

 [83R] The Sacred and the Corrupt.
According to Instructor Razuvious, there are also runeforges inside Naxxramas, but they are unusable by players.
Community content is available under
CC-BY-SA
unless otherwise noted.