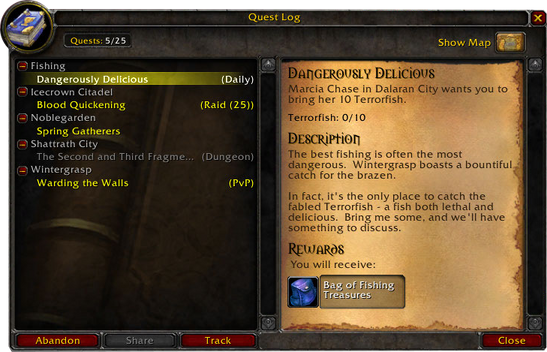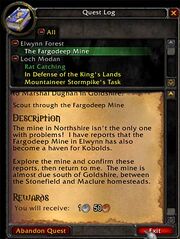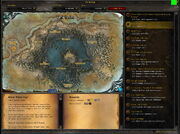 The Quest Log is a window in the default WoW UI listing the status and details of all currently active quests the character has not completed, or completed but not turned in.
Quests are organized by geographical region in collapsible sections (clicking the + by the region name expands to show quests in that region and clicking the - hides the quests in that region).
The Quest Log can hold 25 quests at a time. The initial release of World of Warcraft had a limit of 20 quests, but with the release of Burning Crusade and the 2.0 patch, the limit was increased to 25 quests.
Quest difficulty and colors
The difficulty of the quests is indicated by colors relatively to the character's level:
| Color | Difficulty | Notes |
| --- | --- | --- |
| Gray | Very easy | Doesn't give any XP. May lead to harder quests. |
| Green | Easy | The player should probably complete quest before levelling. |
| Yellow | Medium | Gives good XP without being too hard. |
| Orange | Hard | Can be done but caution is necessary. |
| Red | Very hard | Almost impossible. |
Patch changes
Community content is available under
CC-BY-SA
unless otherwise noted.