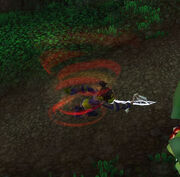 Objectives
Edit
Use the Weed Whacker within your Goblin All-In-1der Belt to mow down 100 of the plants within the Vicious Vale.
Deadly Jungle Plants mowed down (100)
Provided item:
Description
Edit
<Kilag barely has time to acknowledge you between rifle shots, but his eye does linger a moment on your Goblin All-In-1-Der Belt appreciatively.>
Now is the time for creative solutions. Pull something out of that belt and get to work!
<Thinking about the situation for a moment, an idea comes to your mind and it's just crazy enough to work!>
Progress
Edit
There are still too many for us to get through.
Have faith in yourself, <name>. Let your true warrior heart shine through.
Completion
Edit
I saw it with my own eyes, and I still do not believe it!
You have our thanks and the debt of our lives, little goblin. I hope that soon we can repay you the honor.
May I ask a small favor of you while my scouts and I move on?
You will receive:
You will also be able to choose one of the following:
Dialogue
Edit
On accept:
Kilag Gorefang says: Use your weed whacker to mow down these plants, little goblin!
On turn in:
Orc Scout says: We will move ahead, Kilag.
Orc Scout says: We should move now. See you at the Wild Overlook.
Kilag Gorefang says: Go back to Aggra and tell her that we're moving northwest.
Click on the Weed Whacker to go in to Weed Whacker mode. While a weed whacker, players only receive trivial amounts of damage. Go kill 100 plants, then head back to Kilag.
At the end of this quest, players will attain

Honored

status with the Bilgewater Cartel.
Quest progression
Edit
Patch changes
Edit
External links
Edit
Community content is available under
CC-BY-SA
unless otherwise noted.