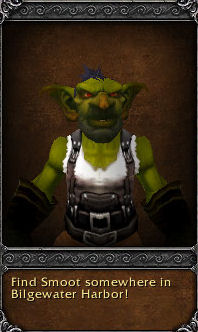 Objectives
Edit
Find
Smoot
somewhere in
Bilgewater Harbor
[57, 49]
. Tackle him and get the Induction Samophlange.
Description
Edit
It was the Captain who insisted his new engines use an induction samophlange.
Those things hadn't even been invented yet!
I tasked Smoot with creating one based on some stolen Venture Company schematics, and he's finally built a working model.
Now that he's got his samophlange, he's drunk with power. He's running all over town with it like a goblin possessed.
Smack Smoot and snag my samophlange, <name>.
Smoot's a good engineer.
A samophlange can kill from thirty yards if you misalign the reduction caliphracts.
Completion
Edit
Excellent! I should have this here engine samophlanginated within the hour.
You will receive:
You may also choose one of these rewards:
Smoot sprints through much of the Harbor. You can attempt to track him down by using a "/target smoot" macro, or you can wait by the flight master, as he runs past that location in his route.
He can be knocked flat while mounted, though players need to dismount to collect the samophlange.
<Name> stiff-arms Smoot and throws him to the ground.

Smoot says: Oh samophlange... I have failed you!
Smoot says: SAMOPHLANGE!
Smoot cries.
Quest progression
Edit
Complete the following:
Complete the following:
 [84] 

Twilight Skies

 [84] 

Twilight Skies
Patch changes
Edit
External links
Edit
Community content is available under
CC-BY-SA
unless otherwise noted.