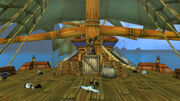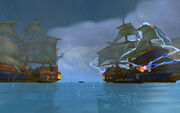 Objectives
Edit
Make your way up top on the upper deck of the Vengeance Wake off the shore of the Lost Isles and speak with Thrall.
Description
Edit
I never thought that I would be a prisoner of the Alliance again. I cannot begin to express my gratitude to you... <name>, is it?
I will meet you up top and from there we will deal with them.
Completion
Edit
My mission is too critical to let these meddlers continue to dog us. It's up to you and I to put an end to this once and for all!
You will receive:
Accepting the quest advances the phase. Thrall runs up top. Before the player gets there, he sets the other ships' sails on fire!
Dialogue
Edit
On accept:
Thrall says: I will see you up top, <name>. Thank you again for my freedom!
Up top, Thrall yells the following:
Winds of boundless fury, unleash your tempest upon the Alliance!
Spirits of the sea, rise and lay waste to my enemies!
Power of the ocean, heed my call!
Quest progression
Edit
Patch changes
Edit
External links
Edit
Community content is available under
CC-BY-SA
unless otherwise noted.