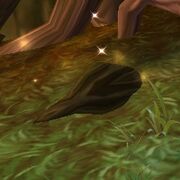 Objectives
Gather 5 Dry Dogwood Roots.
Description
Now that that's done with, let's get to it then!
Huo
, the spirit of fire, hungers for dry dogwood root kindling. It grows among the trees
[47, 31]
south of the village. It should be easy enough for you to gather some.
Progress
I hope you're not shy about getting your hands dirty.
Completion
<Name>! You've returned, roots in hand! You're a down-to-business kind of gal/guy, aren't you? I like that!
Rewards
You will receive:
Quest progression
Patch changes
External links
Community content is available under
CC-BY-SA
unless otherwise noted.