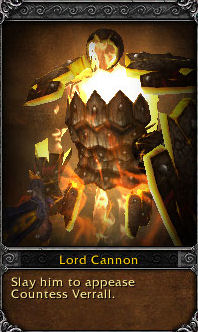 Objectives
Edit
Slay Lord Cannon
[41, 79]
.
Description
Edit
My arch-nemesis, Lord Cannon, has foolishly decided to throw his allegiance to the Twilight's Hammer.
In the past, we've coexisted with a shaky truce, but his change of heart leaves me little choice but to put an end to him. Or, I should say, if you want the information that you seek from the dead dwarf, you're going to kill Lord Cannon for me.
Seek him at Cannon's Inferno to the southeast.
Completion
Edit
I am pleased. Lord Cannon was always an unworthy adversary.
Very well, <race>, I will help you gain the information which you seek.
You will receive:
Upon approaching and engaging Lord Cannon, he offers the following vain threat:
Lord Cannon yells: She's sent you to do her dirty work, has she? I'll deal with the countess after I've killed you, fleshling!
Quest progression
Edit
Patch changes
Edit

Patch 4.0.3a (2010-11-23): Added.

External links
Edit
Community content is available under
CC-BY-SA
unless otherwise noted.