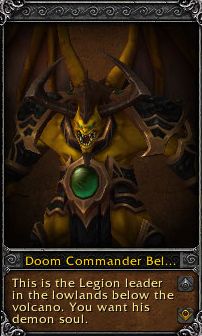 Objectives
Edit
Slay
Doom Commander Beliash
[35.7, 39.4]
and take the Demon Soul of the Doomguard.
Description
Edit
The doomguard commander and his queen must be dealt with. His eredar are summoning in a huge number of reinforcements. We need to put an end to him before the Legion overruns our new foothold up in the volcano!
Progress
Edit
Did you kill the Legion commander and take his soul?
Completion
Edit
Already, the flow of demons from below has slowed to a trickle.
Quickly, absorb the doomguard's soul and become more powerful.
Dialogue
Edit
Upon acceptance

Jace Darkweaver says: Beliash is protected by those Spires of Woe. You'll want to deactivate them.
Upon arrival

Jace Darkweaver says: If those spires give you trouble, take out the stabilizers.
Upon Beliash's death

Doom Commander Beliash says: You won't survive Inferno Peak...
You will receive:
You will learn:
Progression
Edit
Patch changes
Edit
External links
Edit
Community content is available under
CC-BY-SA
unless otherwise noted.