That's Magmatooth, my estranged fire elemental. You gotta kill him or he's gonna kill me! — Initiate Goldmine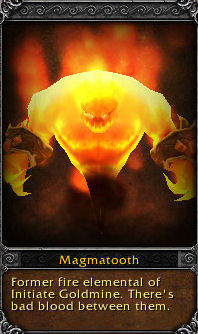 Objectives
Edit
Obtain the Fire Portal Controller and use it at the Fire Portal.
Use the Fire Portal Controller
Description
Edit
That's Magmatooth, my estranged fire elemental. <name>, you gotta kill him or he's gonna kill me!
It was all just a big misunderstanding. How was I to know he'd be mad about me "borrowing" his heart down in Deepholm? He can't die... not permanently anyway!
He's got the controller to the portal on him for sure. You gotta get the controller and then use it in the Fire portal to take us back to the entrance.
<name>!
Completion
Edit
We survived and all of the portals are now shutdown!
You don't think Magmatooth is going to hold a grudge, do you?
You will receive:
You will also be able to choose one of the following:
Upon peering across the chasm, Goldmine becomes obviously distressed:
Wait! What's that over there?
Magmatooth?! NOOOOOOOO!
Magmatooth is furious upon seeing Goldmine, enraged when he is attacked!
Magmatooth yells: GOLDMINE! YOU THINK I'VE FORGOTTEN?! I TOLD YOU THAT I'D GET MY REVENGE!!!
Magmatooth yells: YOU'RE BOTH GOING TO BURN!
Initiate Goldmine yells: Oh yeah? Um... get him!!!
Initiate Goldmine yells: Take this, you ungrateful elemental. After all I've done for you!
Goldmine fires a rocket.
Magmatooth yells: AHAHAHAHAHAHA, FIRE? REALLY?
Once you accept the quest, proceed to the left to get across the chasm and to Magmatooth.
After looting the controller from Magmatooth, stand where you saw him initially, then use the item. It will be in your bags.
Quest progression
Edit
Patch changes
Edit
External links
Edit
Community content is available under
CC-BY-SA
unless otherwise noted.