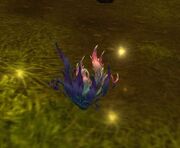 Purple Lotus is an Herb that can be gathered by Herbalists.
Purple Lotus is one of the four types of Lotus and the most common of the four types. Visually, it appears to be a purple flower and a little bit of white/green near the ground.
Purple Lotus can typically be found around troll, night elf and titan ruins in Kalimdor and the Eastern Kingdoms. Sometimes when picking a Purple Lotus, you will also find a Wildvine. Requires 210 Herbalism to gather.
Found in the zones:
Although the drop rate has been severely lowered, it can also be dropped or gathered from certain mobs in some instances such as:
Purple Lotus as an Ingredient
Edit
Purple Lotus is used in the following recipes:
Tailoring
Edit
Enchanting
Edit
Inscription
Edit
As quest objective
Edit
Removed in patch 3.0.2.
Blizzard seems to have done an evil thing with Cataclysm and completely isolated this herb to one zone (Felwood) and removed it from all the other zones.
Here are the zones it used to be found in:
Patch changes
Edit
Patch 4.0.3

(15-Nov-2010): Now only gathered from Felwood.

/

Patch 3.0.2

(14-Oct-2008): No longer a quest objective.

External links
Edit
Item

Purple Lotus Farming - OmgNab.com
Node
Community content is available under
CC-BY-SA
unless otherwise noted.