Piccolo of the Flaming Fire

Item Level

58

Requires level 53
Use: Causes nearby players to dance.
The Piccolo of the Flaming Fire is a fun and "useless" trinket which, as the tooltip states, "causes nearby players to dance" and does simply that for players within 5 yards. The Piccolo has a 60 second cooldown that starts as soon as it is used, but will continue to play for an indefinite amount of time as long as the person holding it does not move. Sitting and mounted players, so long as they are near and not moving, will dance as well.
Source
Piccolo of the Flaming Fire drops from Hearthsinger Forresten, in Stratholme.
Videos
How to farm in Cataclysm: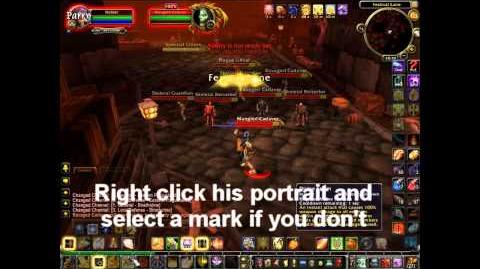 Note
The Piccolo has also been included in the Heroes of Azeroth set of the Warcraft Card Game. It's used to exhaust all heroes and allies, but it only usable on the controller's turn. This makes the card useful only in conjunction with other specialized cards. [1]
Patch changes

Patch 1.2.0 (18-Dec-2004): Area effect of Piccolo of the Flaming Fire has been reduced.

External links
Community content is available under
CC-BY-SA
unless otherwise noted.