Perky Pug

Item Level

20

Use: Teaches you how to summon this companion.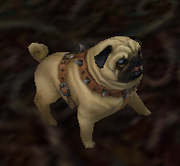 Perky Pug is a non-combat pet awarded from the achievement

 Looking For Multitudes. It is mailed instantly to players who get the achievement. It is sent with following note:
P.U.G.
Dear very patient individual,
We'd like to recognize your tenacity in running dungeons with people you probably haven't met before. Hopefully you even showed some rookies the ropes in your pick-up groups.
In short, we heard that you like pugs. So here's a pug for your pug, so you can pug while you pug. Or something.
Hugs,
Your friends on the WoW Dev Team
Strangely, unlike all the other mailed vanity pets (

[

Turkey Cage

]

,

[

Reeking Pet Carrier

]

,

[

Little Fawn's Salt Lick

]

...) this is not mailed by

Breanni

.
The text is a parody of a popular Internet meme which makes fun of the show "Pimp My Ride".
One of the idle animations for the pug is that it will wipe its butt on the ground.
The perky pug pet wears a harness. (Pugs are shaped such that they can slip out of a simple collar and have a collapsible esophagus, and a normal collar will choke them. A harness permits secure and safe use of a leash. While you cannot pick your pug up in the game, you can buy a leash for it.)
Patch changes
Edit

Patch 3.3.0 (08-Dec-2009): Added.

External links
Edit

WarcraftPets
Community content is available under
CC-BY-SA
unless otherwise noted.