Template:Bc Template:Tempest Keep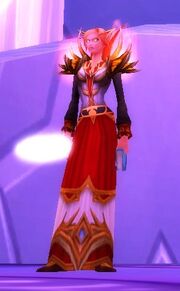 This is an optional Boss in Tempest Keep The Mechanar Second Layer. Map Location
Fight
She spawns two Fire Elementals ("Raging Flames") as soon as you aggro her (three in Heroic Mode), which cannot be banished or feared.
The adds have random aggro and a lot of life, but are very slow. So just kite them around. In normal mode, these adds change aggro after each hellfire. In heroic mode, the adds keep aggro on the same target for the length of the fight.
It is suggested to clear the entire room before pulling, as kiting the fire elementals generally requires a fair amount of space.
The adds leave a trail of fire that hurts (think Tron light cycles).
Attacks & Abilities
Dragon's Breath: Disorients the target for 3 seconds, switches aggro to the second highest threat target. Dispellable.
Knockback: Occasionally knocks the primary target away, switching aggro to the second highest threat target.
Frost Attack: 700 damage and a nondispellable debuff that reduces attack speed.
Arcane Blast: 500 damage
Melee: ~1500 on plate
130,000 HP
In this fight, everyone must be prepared to move as necessary to avoid or kite the elementals. For the initial pull, spread your group out as far as they can go and send the MT in to tank her on the spot. You will immediately know which party members have aggro from the Elementals. Ensure that those party members move across the room to the other side with the elementals in tow.
When the elementals change target, they stand still and "pulse" so be prepared to arrange for those targets to kite. They can also aggro onto hunter pets.
Heroic
This boss has the same abilities pretty much. There are a few changes. She now spawns 3 fire elemenetals, which are faster, and hit 660-1500, can crit for 3k. She seems to have the same amount of HP. She also hits for the same as normal.
The Raging Flames elementals occasionally use Hellfire, which ticks for 2880. However, they will stick to the original target once Hellfire is done. Invulnerability shields will temporarily remove the elementals from the target, but they will return once the shield runs out. A Mage can use Invisibility -after- the elementals aggro them, when it resolves they will switch targets permanently as Invis removes the mage from combat.
Make sure you take a tank who knows about the aggro-dumping abilities that she has, and knows how to deal with them. With the chaos from 3 adds running around, it's really difficult to keep her stuck on the tank. A paladin who knows how to tank and has good gear is highly recommended -- ranged taunt can save your butt, however, the paladin and other party members must be careful, as righteous defense can temporarily taunt the elementals off whoever is kiting them, leading to inconsistencies in the kiting pattern. Also, 5 Greater Fire Protection Pots trivialize the damage taken.
If the tank wears around 260 fire resist, it is possible to avoid dragon's breath, and the resulting temporary deaggro. This greatly reduces the difficulty of the fight, as the tank can focus on kiting and building aggro completely, rather than chasing the boss around the room.
Loot
Item Level 115
1164 Armor
+30 Strength
+50 Stamina
Durability 135 / 135
Requires level 70
Equip: Increases defense rating by 25.
Equip: Increases your shield block rating by 23.

Item Level 115
Held In Off-hand

"Held In Off-hand" is not in the list of possible values (Back, Chest, Feet, Finger, Hands, Head, Held in off-hand, Legs, Main Hand, Neck, Off Hand, One-Hand, Projectile, Ranged, Relic, Shirt, Shoulder, Tabard, Thrown, Trinket, Two-Hand, Waist, Wrist, Two-Handed) for this property.

+15 Intellect
+12 Stamina
Requires level 70
Equip: Improves critical strike rating by 19.
Equip: Increases spell power by 21.