Mimiron's Head
Item Level 70
Mount

"Mount" is not in the list of possible values (Back, Chest, Feet, Finger, Hands, Head, Held in off-hand, Legs, Main Hand, Neck, Off Hand, One-Hand, Projectile, Ranged, Relic, Shirt, Shoulder, Tabard, Thrown, Trinket, Two-Hand, Waist, Wrist, Two-Handed) for this property.

Requires level 70
Requires Riding (300)
Use: Teaches you how to summon this construction. Can only be summoned in Outland or Northrend. This is a very fast... head.
Mimiron's Head is a 310% speed flying mount.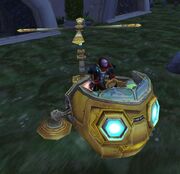 Source
This item drops from Yogg-Saron in the 25-man version of Ulduar. It drops only if none of the Watchers are helping.
Notes
Only one drops per kill.
Technically, it is the slightly modified head of V0-L7R-0N, not Mimiron. Though it may be a Head belonging to Mimiron and not the Head of Mimiron.
External links