Mimiron's Head

Item Level

70

Mount

"Mount" is not in the list of possible values (Back, Chest, Feet, Finger, Hands, Head, Held in off-hand, Legs, Main Hand, Neck, Off Hand, One-Hand, Projectile, Ranged, Relic, Shirt, Shoulder, Tabard, Thrown, Trinket, Two-Hand, Waist, Wrist, Two-Handed) for this property.

Requires level 70
Requires Riding (300)
Use: Teaches you how to summon this construction. Can only be summoned in Outland or Northrend. This is a very fast... head.
Mimiron's Head is a 310% speed flying mount.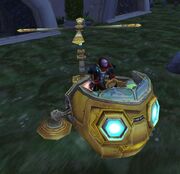 This item drops from Yogg-Saron in the 25-man version of Ulduar. It drops only if none of the Watchers are helping.
Only one drops per kill.
Technically, it is the slightly modified head of V0-L7R-0N, not Mimiron. Though it may be a Head belonging to Mimiron and not the Head of Mimiron.
Obtaining this mount awards the Feat of Strength,

 And I'll Form the Head!.
External links
Edit
Community content is available under
CC-BY-SA
unless otherwise noted.