Mighty Shadow Protection Potion

Item Level

80

Requires level 70
Use: Absorbs 4200 to 6000 shadow damage. Lasts 2 min. (1 Min Cooldown)
Sell Price: 50
"Don't drink to much! I don't need you growing horns or hooves on me."
—Pagatha Soulbinder[1]
The Mighty Shadow Protection Potion will protect the imbiber from all shadow related damage.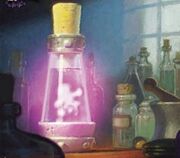 Source
This potion is made by Alchemist with a skill level of 400.
The components are:
The recipe drops from

 Cultist Shard Watcher <Cult of the Damned> in Icecrown
References
External links
Community content is available under
CC-BY-SA
unless otherwise noted.