Mechano-hog

Item Level

80

Mount

"Mount" is not in the list of possible values (Back, Chest, Feet, Finger, Hands, Head, Held in off-hand, Legs, Main Hand, Neck, Off Hand, One-Hand, Projectile, Ranged, Relic, Shirt, Shoulder, Tabard, Thrown, Trinket, Two-Hand, Waist, Wrist, Two-Handed) for this property.

Races: Orc, Undead, Tauren, Troll, Blood Elf, Goblin
Requires level 40
Requires Riding (150)
Use: Teaches you how to ride this sweet hog.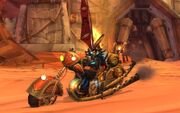 Mechano-hog is a motorcycle mount that is created by top Horde engineers. This vehicle allows one party member to ride along in the side-car.
The Alliance counterpart is called the Mekgineer's Chopper. Either one fulfills the achievement

 Get to the Choppa!.
Activating the Sidecar
Edit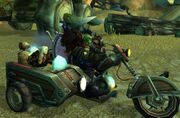 To activate the Mechano-hog's sidecar and carry a passenger, simply invite them to a group. The player's pointer will then turn to a green mounting arrow when they mouse over the Mechano-hog, allowing them to jump on while the sidecar deploys itself automatically.
This item can be crafted using Engineering (450).
Taught by [Schematic: Mechano-hog], which can be purchased from the Horde Expedition quartermasters

 Gara Skullcrush and

 Sebastian Crane at Exalted reputation for 320

.
Ingredient List
Edit
A complete breakdown of all components needed:
Note: It may take less or more cobalt ore to make the bolts (1-3 per 2 ores).
The components that can't be made, or skinned, can be purchased from

Roxi Ramrocket

at K3 in Storm Peaks for total cost of 12500 and are available for sale only to engineers able to craft this item. There are some reports that skilled engineers can obtain parts sold by Roxi Ramrocket from mechanical corpses from Ulduar, such as Flame Leviathan
The license plate is "PWN".
Patch changes
Edit
Patch 3.1.0

(14-Apr-2009): This mount is no longer considered a vehicle.
            Now fully a mount, with fall damage, instant mount/dismount, and swimming ability.

External links
Edit
Community content is available under
CC-BY-SA
unless otherwise noted.