Template:Common
Binds when used
Devices
Use: Creates a Mechanical Squirrel that follows you around. Right Click to summon and dismiss your Squirrel.
1 sec Cast
Sells for Template:Sc to vendors
Item Level 15

A mechanical squirrel is a small pet that engineers can make. Constructing one requires a recipe that you can loot from monster drops or acquire from another player who has a spare copy.
Source
Mechanical squirrels are crafted by engineers with a skill level of 75.
The components are:
The recipe drops off creatures with their levels in 10-20s.
Selling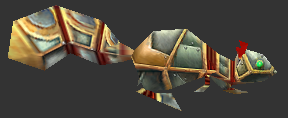 A mechanical squirrel sells typicaly for Template:G, but can get much higher (up to Template:G) on some servers.
Community content is available under
CC-BY-SA
unless otherwise noted.