The subject of this article was removed from World of Warcraft in patch 3.0.2.

This includes items and quests that can no longer be obtained.
The in-game information in this article is kept purely for historical purposes and should probably not be under any other categories.
Master Craftsman Omarion <Brotherhood of the Light> was a friendly level 60 elite human found in the Deathknight Wing of Naxxramas. He was locked in a cage at the end of the first room before you got to Instructor Razuvious.
Cataclysm
Edit

This section concerns content exclusive to Cataclysm.
Omarion will return, he'll be located at Light's Hope Chapel, Eastern Plaguelands.
Background
Edit
Omarion is an artisan blacksmithing, leatherworking, and tailoring craftsman. Unfortunately he was gravely injured inside Naxxramas and doesn't have much time left. He is willing to teach other master crafters his knowledge so it doesn't die with him. Non-crafters can take his handbook to Craftsman Wilhelm at Light's Hope Chapel who can make all the items as well, as long as the players provide the materials and pay a hefty fee.
Omarion can teach the following plans and patterns to master craftsmen who have the required reputation with the Argent Dawn:
Blacksmithing
Edit
Leatherworking
Edit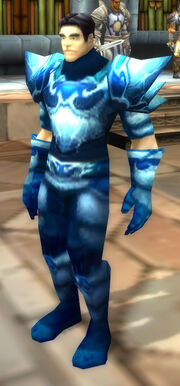 Tailoring
Edit
Patch changes
Edit
External links
Edit
Community content is available under
CC-BY-SA
unless otherwise noted.