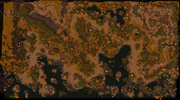 Landfall is chapter 1 of the orc campaign, The Invasion of Kalimdor.
Creeps
Critters
Chapter One
Landfall
Following the mysterious Prophet's instructions, Thrall led the Horde across the Great Sea. Now after weeks of traversing the raging seas, the orcish Horde has landed upon the savage shores of Kalimdor. With their stolen ships broken and drowned, the orcs cautionsly venture inland, wary of the unseen dangers lurking within the crags of the desolate land...
Quests
Main Quests
Rally the Horde
The player starts with this quest
Objectives

Discover where the other ships have landed
Thrall must survive

Description

The Orcs' ships were separated and broken along the coasts of Kalimdor. You must explore the rocky coastline and reunite your scattered warriors. The Horde must be rallied before it can find its destiny in this new land.
Protect Cairne
The player receives this quest after meeting Cairne Bloodhoof
Objectives

Follow Cairne to the Tauren village
Protect Cairne from his enemies
Cairne Bloodhoof must survive
Thrall must survive

Description

Cairne Bloodhoof possesses knowledge of a distant Oracle that might be able to help the horde find its destiny. He must be protected from harm so that you can learn more of the Oracle.
Quotes
Prelude
During game
Grunt - We should check these crates for valuable supplies!
---
Grunt - This is one of our ships, Warchief. It must have been smashed against the rocks in the storm.
---
Grunt - A great battle took place here. The clay is red with flesh blood.
Thrall - Is there nothing in this land but dust and carnage?
---
Thrall - Those hideous creatures have the bodies of horses! Lok-tar Ogar!
---
Thrall - Those pig creatures are unlike anything I've ever seen before.
Grunt - At least they're prettier than the humans.
---
Troll Headhunter - Thanks for saving us, mon. We should hurry. The pig-men say there were other ships nearby!
---
---
Grunt - Throm-ka, Warchief. We knew you'd find us!
Thrall - Throm-ka, warrior. I'm glad you are all safe. Were you part of Hellscream's group?
Grunt - No, Warchief. We were separated in the storm. We only just arrived.
---
Thrall - The horse men look as if they're dressed for war.
---
---
---
---
Thrall - Lok-Narash! Here they come again!
---
Epilogue
Media
Videos
Community content is available under
CC-BY-SA
unless otherwise noted.