For lore, see knight.

Though the hearty Knights of Azeroth were destroyed during the First War, the shining Knights of Lordaeron still continue to serve amongst the warriors of the Alliance. These heavily armored warriors use mighty swords in combat which can damage enemy warriors up to several feet away. The Knights' speed and mobility mark them as the most versatile warriors of the Alliance.
Information
Knights are very powerful and fast troops. Be sure to research Animal War Training to increase their hit points. The Paladin's Devotion Aura is also good to use with Knights.
Many Human players try to rush up to Knights as soon as they can to replace their Footmen. It is best to research the armor upgrades to give them even more armor. Knight usage is pretty straight forward.
Knight Counters
All

Knights have heavy armor which means it's best to use magic attacks against them.
Humans

Knights - Have more of them and have more upgrades, and control them better
Sorceress - Polymorph and Slow
Gryphon Rider
Orcs

Tauren - with Pulverize
Farseer - Chain Lightning
Raiders - Ensnare
Shaman - Purge
Night Elves

Keeper of the Grove - Entangling Roots
Dryads - Slow Poison
Druid of the Talon - Faerie Fire
Druids of the Claw in Bear Form
Chimaera
Undead

Lich - Frost Nova
Dread Lord - Sleep
Abominations
Necromancer - Cripple
Frost Wyrms
Upgrades
A

nimal War Training

Increases the maximum hit points of Knights, Dragonhawk Riders, and Gryphon Riders by 150.
| Research Cost | Researched At | Requirements | Upgrade Time |
| --- | --- | --- | --- |
| 125 175 | War Mill | None | 60 sec. |
Iron Forged

S

words

Increases the attack damage of Militia, Footmen, Spell Breakers, Dragonhawk Riders, Gryphon Riders, and Knights.
| Research Cost | Researched At | Requirements | Upgrade Time |
| --- | --- | --- | --- |
| 100 50 | Blacksmith | None | 60 sec. |
Iron

P

lating

Increases the armor of Militia, Footmen, Spell Breakers, Knights, Siege Engines, and Flying Machines.
| Research Cost | Researched At | Requirements | Upgrade Time |
| --- | --- | --- | --- |
| 125 75 | Blacksmith | None | 60 sec. |
Manual description
Note: The manual and Battle.net descriptions are very similar, the following text is not featured in Battle.net as it has a different sentence.
Wading into combat astride their noble warhorses, the knights are renowned for cutting bloody swathes through enemy ranks.
Gallery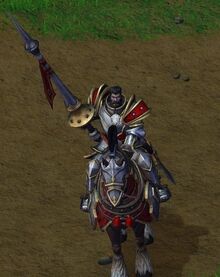 Patch Changes
Patch 1.12 (07/30/2003)
The Frozen Throne
Animal War Training upgrade cost has been reduced to 125/175 from 150/250.
Patch 1.17 (09/20/2004)
Hit points increased to 835 from 800.
Patch 1.22 (06/30/2008)
Attack cooldown lowered to 1.40 from 1.50.
Base damage increased to 28 from 25 (Average damage is 34).
Powerful mounted warrior. Can learn Animal War Training.
External links
Community content is available under
CC-BY-SA
unless otherwise noted.