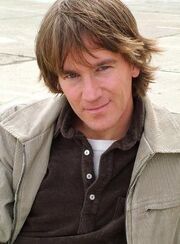 Justin Gross provided the voice of Arthas Menethil for Warcraft III: Reign of Chaos and Warcraft III: The Frozen Throne.[1] He didn't reprise his role in World of Warcraft: Wrath of the Lich King because Blizzard Entertainment offered him an embarrassingly low amount of money.[2] He was replaced with Patrick Seitz.
Private e-mail
Justin Gross was asked: "Will you be reprising your role as Arthas in the upcoming Warcraft expansion (Wrath of the Lich King)?" and he answered:
Unfortunately, no. After I completed my role as Arthas, Blizzard Ent. came back to me to reprise the role but for an embarrassingly low amount of money. The more money they made off of WOW, the less they wanted to pay their actors. So on the advice of my agent, I declined.
But thank you for asking.[2]
External links
Reference list
http://www.mmo-champion.com/threads/613343-Why-Justin-Gross-won-t-be-returning-as-Arthas
Community content is available under
CC-BY-SA
unless otherwise noted.