Jewel of Infinite Possibilities

Item Level

115

Held In Off-hand

"Held In Off-hand" is not in the list of possible values (Back, Chest, Feet, Finger, Hands, Head, Held in off-hand, Legs, Main Hand, Neck, Off Hand, One-Hand, Projectile, Ranged, Relic, Shirt, Shoulder, Tabard, Thrown, Trinket, Two-Hand, Waist, Wrist, Two-Handed) for this property.

+18 Intellect
+19 Stamina
Requires level 70
Equip: Improves hit rating by 21.
Equip: Increases spell power by 23.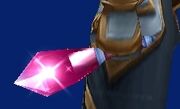 Jewel of Infinite Possibilities is an epic off-hand for DPS casters.
This item drops from Netherspite in Karazhan.
External links
Edit
Community content is available under
CC-BY-SA
unless otherwise noted.