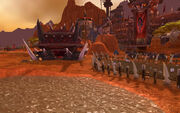 Jaggedswine Farm is one of several pig farms located in the orcish homeland of Durotar. There is a house, a large pig pen, and a pond. Swine are a source of food for the Horde. The farm is close to the Zepplin tower and the capital city of Orgrimmar. Currently there is no one at the farm; it is either vacant/abandoned or the owner is in the city doing business.
Community content is available under
CC-BY-SA
unless otherwise noted.