The Isle of Giants is an island located off the Northern coast of Kun-Lai Summit in Pandaria. The island is home to a variety of large dinosaurs, and one of the Pandaria world bosses: Oondasta. There are also a force of Zandalar trolls on the island, presumably capturing and/or taming dinosaurs for their own use.
Like the Isle of Thunder and the Timeless Isle, a clinging mist engulfs this island, preventing players from using any flying mount.
Players are able to loot Giant Dinosaur Bones from any of the island's inhabitants.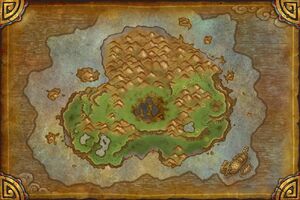 See also
Edit
Patch changes
Edit
External links
Edit
News

Wowhead News
Isle of Giants Preview: New Hunter Tames, Vanity Items
by perculia 2013-01-16 12:11 PM

MMO-Champion
Patch 5.2 - Isle of Giants Updated, Orgrimmar and Stormwind Construction, Blue Tweets
chaud 2013-01-13 06:42 PM

Wowhead News
5.2 PTR Zone Preview: Isle of Giants, Isle of the Thunder King
by perculia 2013/01/02 4:42PM

WoW Insider
Mysteries of the Isle of Giants and patch 5.2
by Anne Stickney Dec 25th 2012 8:00PM
Community content is available under
CC-BY-SA
unless otherwise noted.