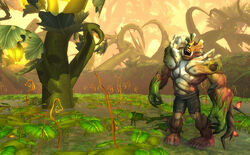 The botani have long cultured unique plantlife in their irrigated ponds or tree dwellings, but far more terrifying is their ability to cultivate flora within a living host. Unwary natives are captured and seeded in an agonizing process that alters their physical makeup and takes complete control over their bodies, turning them into mindless walking saplings. The entire process is poorly understood, but these grisly infested can be seen guarding botani enclaves or shambling ahead of the botani host as gruesome cannon fodder whose corpses eventually seed new terrain.
Community content is available under
CC-BY-SA
unless otherwise noted.