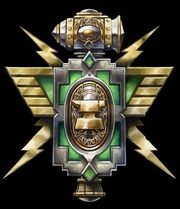 The Icon of the Forge is the racial crest of the dwarves, and symbolizes their determination and skill in the arts of metallurgy. The crest features a shield emblazoned with an intricately crafted anvil, likely referring to the Great Forge. This rests atop a finely crafted hammer, a pair of wings which may represent the Wildhammer clan, and a pair of crossed lightning bolts which may refer to the titan Aman'Thul, recently venerated by the dwarves.
Community content is available under
CC-BY-SA
unless otherwise noted.