Were you looking for the artifact to be introduced with Battle for Azeroth also called the  

[

Heart of Azeroth

]

?

This article concerns content exclusive to Legion.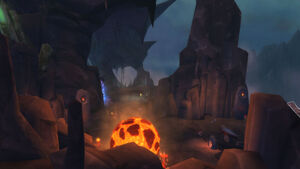 The Heart of Azeroth is a cave system atop Storm's Eye Overlook, a shelf that extends over the Maelstrom. It is the order hall for the shaman class. The remnants of the Earthen Ring are arriving here, retreating from disastrous battles with the Burning Legion all over Azeroth, including the Twilight Highlands. Not much of the order remains, but the hope is that the elements will aid them here, at the core of the world, in their hour of greatest need.
Shortly upon arriving, the Overlook is besieged by infernals, under the direction of their felguard commander. Thrall, taking up the Doomhammer, is unable to defeat him, as the artifact no longer responds to his call. He surmises this is because of his battle with Garrosh Hellscream and his decision to kill the former Warchief. When all seems lost, the Earthen Ring manages to trigger an ancient weapon, channeled through the body of the hero and into the demon. The felguard does not die, though he plummets into the Maelstrom.
Like other order halls, The Heart of Azeroth has an artifact weapon forge, a command map to send out followers, a portal to Dalaran, and a book to record players' deeds. The area is currently under construction, so it remains to be seen what vendors will be available. Paths are lit by the gentle glow from shaman totems.
Travel
Getting there
Shaman access the Overlook and eventually The Heart of Azeroth as part of the introductory Artifact Weapon questline. Upon obtaining their artifact and returning to the Overlook, they summon the power of the elements to wrench open the cavern leading to the Heart.
Access is available via the portal on Krasus' Landing, to the right of the flight master as you are looking at him, by the entrance to

 Dalaran proper.
Inhabitants
Quest givers
Merchants
Trainers
Notable
Images
Notes
Puzzlemaster Lo has a test that shaman can attempt involving transforming totems.
Players can currently leap into the Maelstrom. Unfortunately, the water is nonexistent and results in a rather quick death. Exploring the area while dead reveals nothing out of the ordinary, and the whirlwind of the Maelstrom itself leads nowhere.
The name of the cave system appears to be quite literal, for what appears to be a pulsing, stone heart can be found in the deepest region.
Patch changes
References
See also

Note: This is a generic section stub. You can

help expand it

by clicking

 Edit to the right of the section title.
External links

Note: This is a generic section stub. You can

help expand it

by clicking

 Edit to the right of the section title.
Community content is available under
CC-BY-SA
unless otherwise noted.